The Match King
Ivar Kreuger, The Financial Genius Behind a Century of Wall Street Scandals
Ivar Kreuger, the infamous "Match King", is remembered as the most colorful and compelling business personality of the roaring 1920s. From 1929 to 1932, he was the most talked-about business man in the world, for good reason. Wealthier than Morgan and as generous as Rockefeller, he miraculously survived the Great Crash, only to be found, one dark Paris morning, with a bullet through his heart. Opinions about Kreuger were deeply divided: hero or villain, innovator or fraudster, suicide or murder victim.
Kreuger was known as the "Match King" because he held monopolies on the sale of matches in many countries, but his financial empire extended to banking, construction, film, mining, paper, railways, and telephones. He was a statesman as well as a financier, and usurped Jack Morgan as the leading lender to Europe. He rescued France from bankruptcy, and nearly saved Germany. He charmed everyone, from President Hoover to Greta Garbo to the journalists who put his boyish face on the covers of Time and The Saturday Evening Post. Kreuger favored perception over reality. He believed financial statements were an art, not a science. When asked to name his three rules for success in business, Kreuger advised "silence, more silence, and still more silence."
Unfortunately, the silence killed, and by the end Kreuger's shares were worth just pennies. Historians, including John Kenneth Galbraith and Arthur M. Schlesinger, Jr., labeled Kreuger the greatest fraud in history.
Radio and Television Interviews on The Match King
Purchase The Match King:
Join My Mailings
Follow me: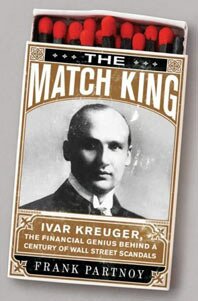 Praise
Shortlisted for the Financial Times and Goldman Sachs Business Book of the Year 2009
"As Frank Partnoy explains in his riveting biography…the fact that no one remembers Kreuger in 2009 would have seemed…fantastical to people in the 1930s….It's irresistible to scour The Match King and underline passages about the life of Ivar Kreuger that hold parallel lessons for today—there was even a 1920s terrorist attack on a New York financial site….Remember the Alamo? Remember Ivar Kreuger!"
"An eminently readable and scholarly biography…the tale of the Match King holds lessons for our own day and for future generations"
"Frank Partnoy's tale of the meteoric rise and bloody end of Ivar Kreuger, the Swedish industrialist who dazzled investors in the US and Europe until his Ponzi scheme disintegrated after the 1929 crash [is] an enthralling cautionary tale of the recurring excesses of global finance….The author displays a vivid touch in describing the Swedish parvenu's successful efforts to infiltrate the upper echelons of US finance."
"An absorbing tale and a poignant reminder that every boom has its scoundrels. Partnoy…manages to explain Kreuger's complex dealings without diminishing the tension of his dubious rise and inevitable fall….Partnoy gives us a rich account of the Roaring Twenties' most astounding confidence man."
"Partnoy delivers a thrilling account of the grandfather of all Ponzi and Madoff schemes … a snapshot of a time all too familiar now: a speculative real estate bubble, unbridled consumer spending, investors buying derivatives based on sketchy information and a Wall Street operating by its own rules."
-Publishers Weekly Starred Review
"Frank Partnoy recreates a Wall Street of greed, speculation, and scandal from a distant past that magically foretells the dismal debacle of 2008. This book is a joy to read and a timeless education on the perilous follies of high finance."
-Roger Lowenstein, author of When Genius Failed
"An engrossing study of Ivar Kreuger.…Those who wonder how Madoff duped his auditors will find an instructive case study in Partnoy's account of Kreuger's relationship with A. D. Berning, a junior auditor with Ernst & Ernst.…Frank Partnoy, as a fair-minded biographer, renders a mixed verdict on Kreuger."
-Ron Chernow, The New Yorker
"The tale of Ivar Kreuger, vividly brought to life by Frank Partnoy, is a reminder that Wall Street has not changed much since the late 1920s. The players change, but the animal spirits remain the same. Anyone interested in today's financial crisis will be captivated by this story."
-George A. Needham, founder and Chairman of Needham & Company
"Partnoy…traces the fabulous rise and spectacular fall of the financier….A pertinent, timely tale of financial fraud and how it was maintained for so long."
-Kirkus Reviews